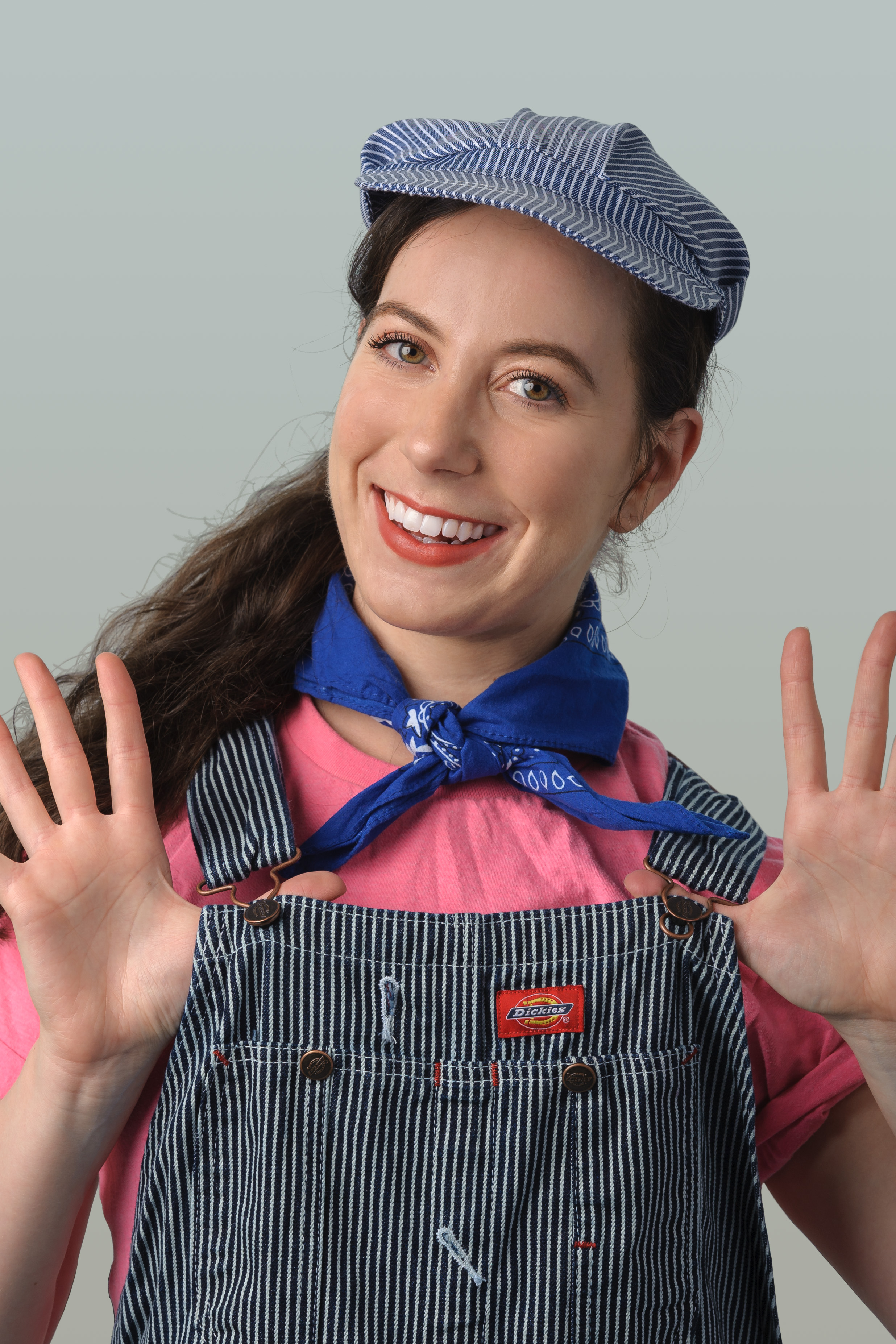 Hannah Benditt graduated from the University of Missouri-Kansas City Conservatory of Music and Dance earning her BFA in Dance Performance and Choreography with a dual emphasis in Ballet and Modern. Originally from Minneapolis, Minnesota, Hannah began formal training at Minnesota Dance Theatre (formerly Ballet Arts Minnesota). She has attended American Ballet Theatre, Alvin Ailey American Dance Theatre, Washington Ballet, Paul Taylor Dance Company, Pittsburgh Ballet Theatre and Milwaukee Ballet summer intensives. Upon graduating from UMKC, Hannah began dancing professionally with Common Thread Contemporary Dance Company, later joining Consuming Kinetics Dance Company in St. Louis, MO. Hannah returned to the Twin Cities in 2015 to join St. Paul Ballet and is currently a freelance artist working with a variety of independent choreographers and companies in the community. Hannah has enjoyed performing works by George Balanchine, Paul Taylor, Antony Tudor, Jessica Lang, Uri Sands, Sally Rousse and more. In addition to dancing, Hannah enjoys spreading her love of movement as a teacher and choreographer in the metro and surrounding areas. This is Hannah's third project with DanceCo and she is so excited to be back working with Brittany and Matthew on such a fun, interactive show.
Heather Cadigan Brockman danced with Myron Johnsons' Ballet of the Dolls for over 20 years. She is currently a member of Collide Dance Theater Company and serves as both faculty member and performer with Out On A Limb Dance School and Company. Heather is also enjoying work with various independent artists and choreographers in the Twin Cities. She has been seen on numerous stages throughout Minnesota. Heather is thrilled to be involved in her fourth dance theater production with DanceCo.
A lifelong train enthusiast, Paul Howe ("Engineer Paul"), studied music at Macalester College and sang in the Concert Choir under renowned conductor Dale Warland. Upon retiring from his full-time career, Paul commenced a regular performing schedule, which for the past 14 years has included a weekly storytime for children at Choo Choo Bob's Train Store in St. Paul. As one of the regular characters on the Choo Choo Bob TV show he toured nationally with the show's band ("Choo Choo Bob and the Holy Smokestacks Review") for four years. He continues his weekly storytimes, sings in his local church choir, and performs regularly throughout the Twin Cities at local preschool and daycare facilities, ECFE groups, birthday parties, train shows, and other special events. He remains an enthusiastic and popular storyteller and musician among children, parents, and grandparents.
Although not a dancer himself, he is most proud of his daughter-in-law, Kristin Howe, who is co-director of the local dance company Alternative Motion Project (AMP). He is excited to be working again with the talented folks at DanceCo.
Benjamin Johnson started ballet at age fourteen, and quickly found his niche in the dancing world; hats. He has spend the past thirty five years specializing in and performing roles with hats.
Hats that look like mouse heads, hats with viking horns coming out of them, straw hats, railroad worker and conductor hats, and bright blue hats made to look like sailing ships have all graced his head as he has danced across stages across the country and in several foreign countries. In this performance, Mr. Johnson will be the guy onstage with the Fedora hat.
He is excited to return for these performances with DanceCo, after previously performing in Which Witch Is Which and Wolftales. He has previously danced and worn hats for James Sewell Ballet, Milwaukee Ballet, BalletMet Columbus, Dayton Ballet, Ohio Ballet, Bay Ballet Theater, and Twin Cities Ballet of Minnesota.
Outside of the dancing world, he is a Massage Therapist and ballet teacher.
Brittany Keefe currently dances with Collide Theatrical Dance Company and teaches at Ashley Ballet Arts Academy. She has travelled the world dancing with Pacific Northwest Ballet, Pittsburgh Ballet Theatre, Ballet Memphis, Minnesota Dance Theatre, James Sewell Ballet, American Repertory Ballet, Terpsicorps Dance Theater, Terra Firma Dance Company, Chamber Dance Project, at the National Choreographers' Initiative, and with Morphoses. She also performed in a solo improvisation show in Germany and Italy under the direction of Luca Veggetti, and was selected to be an American ambassador at the international dance festival in Cali, Columbia.
Brittany is the co-Director of DanceCo. When she is not dancing or doing administrative duties she can be found making and playing with the props with her six year old daughter.
For 15 years Kim & Quillan Roe have made music together, starting as a tribute to the then-recently-deceased Johnny & June Carter Cash.
Kim Roe grew up with music all around her. Her dad would play his guitar and she would sit at his feet singing along. As she grew, so did her love for music: first as a girl singing along with the radio into a hairbrush in front of her bedroom mirror, then as a teenager in choir, then as a young woman singing karaoke.
Quillan Roe is the descendant of Kentucky horse-thieves and a long line of Appalachian and Ozark fiddlers on his mother's side; and an equally long line of evangelists, poets, and writers on his father's side. He's been playing in bands for nearly three decades, with his first professional band, Accident Clearinghouse, launching in 1992.
Fundamental to the creation of the work, Kim and Quillan bring their five piece band to the stage for Expectation Station.
Brian Sostek's exploits have ranged from acting in some of Hollywood's most quickly cancelled sitcoms to touring internationally with percussive dance-theater company Joe Chvala and the Flying Foot Forum. Over three decades, he has parlayed his background in various dance forms, his lifelong experience with comedy, and his fascination with verbal and physical play into a successful and constantly expanding career in the performing arts. He has created and performed work for numerous companies including Sossy Mechanics, which he founded with wife Megan McClellan and with whom he won a 2015 Ivey Award for Playwrighting and Choreography.
Rebecca has spent over 20 years in the dance, movement, theater, and commercial acting and voice over space collaborating in the creation of new work. She worked as resident teaching artist for eight years, educating children and teachers throughout the Midwest. Her teachers include Marcel Marceau, Stefan Niezdialkowski, and Kari Margolis. She is so happy performing in her fourth show with DanceCo! Outside of exploring movement on stage, she loves exploring it also in poetry, photography, psychology, riding her bike, paddling, and while playing with her pup, Roxy.
She employs her creativity and business background as an Organization Development Consultant, coaching and creating interventions for individuals and teams that promote greater human learning and development.
DARRIUS STRONG is a Twin Cities based choreographer, dancer and educator whose creative work has been chosen for the Walker Arts Center Choreographers Evening, Rhythmically Speaking, The American College Dance Festival, The University of MN Dance Theater and was featured in the New Griots Festival at the Phoenix Theater, Minneapolis. Darrius has created works for Threads Dance Project, Flying Foot Forum, Alternative Motion Projects, St. Olaf College, Macalester College, Hamline University, St. Paul Conservatory Performing Arts, and many more high schools in Minnesota. He also shared two evenings of work titled "Ipseity" and more recently, "Access Granted". Strong served as a 2016 Sage award Panelist and developed his own dance company STRONGmovement in 2015.

He is now faculty at St. Paul Conservatory Performing Arts High School, TU Dance Center, and Eleve Performing Arts Center, where he focuses on teaching young dancers how to connect their identity to movement. Darrius is also a company member of Black Label Movement Dance Company.


He is interested in working with movers of all experience levels in hopes of developing a broader supportive community, creating and building his company STRONGmovement.
This is Darrius's first DanceCo production!
Maria Vitelli discovered a love for performing at age three and hasn't stopped since. She grew up dancing at The Dance Center in West St. Paul and training in acting, singing, and dance with Children's Theatre Company's Theatre Arts Training. In high school she competed with Project 52 Dance Company where she toured the country with West Coast Dance Explosion's FUZION Dance Company. Most recently she enjoyed performing with Minnesota Dance Collaborative, at 9x22 Dance Lab, and as the queen in Pacific Midwest Ballet's Fringe Production of "Revolt, Robot!" She currently trains at Collide Theatrical Dance Company and is excited to perform in her second DanceCo production.
Photos by Stan Waldhauser (Except Roe Family Singers Photo by John Noltner)